Our relationship with Elizabeth began in 1988 and continues today.
As she approached her eightieth birthday, we wanted to honor this special lady and share with our customers the history of her art career.
We were happy to present Elizabeth's art in a retrospective
show in September, 2007.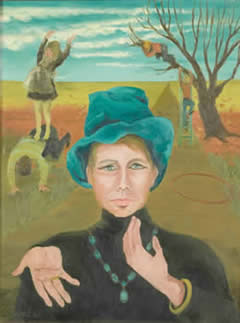 Self Portrait with Children
"I just live my life and these images fall out of it."
oil on canvas, 23 x 30, 1965, Private Collection
Fishing

1993

oil on panel

32 x 41

sold

Riding a Wave

1993

prismacolor pencil

12 x 15

sold

6 June, 1983 - Aix en Provence

watercolor

12 x 16

sold

Dilemmas

2001

colored pencil

13 x 14

sold

Surprise Egg

1977

colored pencil

13 x 16

$850.

unframed

Friends Dancing with a Big Duck

1983

watercolor

11 x 12

$800.

unframed

Sphinx

1983

mixed media

8 x 9

$650.

framed

Bubble Gum

1977

colored pencil

5 x 7

sold

The first colored pencil drawing

done by Elizabeth in New Orleans

Becoming Real

1991

colored pencil

13 x 15

sold

Dreaming

1984

oil on canvas

9 x 14

sold

Touching Spring

1983

colored pencil

8 x 8

$650.

sold

A Gleam Coming Through

1983

colored pencil

6 x 8

sold

Yellow World

1988

colored pencil

11 x 13

sold

Fly Away

1986

oil on panel

14x18

$1500.

framed

I'm Mister Alligator, Who are You?

1974

colored pencil

12 x15

sold

Rose Buds Everywhere

1976

colored pencil

10 x 13

$800.

unframed

No Way to Treat a Friend

1977

colored pencil

12 x 16

$800.

unframed

We Had a Good Time Last Night

1976

colored pencil

11 x 14

sold

Watching

1983

watercolor

11 x 15

sold

Playmate Revisited

1975

colored pencil

12 x 16

$800.

unframed

What is this Language?

1974

colored pencil

12 x 15

$800.

unframed

Other Eyes

1994

oil on panel

32 x 32

sold