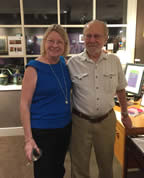 Full Circle
A Celebration of The Station Gallery's 40th Anniversary
and the Art of Mitch Lyons
June 7 - 29, 2019
The Station Gallery celebrates its 40th year in business with an exhibit honoring Mitch Lyons, who was the first artist to show at the Gallery in 1979. Mitch built ceramic vessels and pulled clay monoprints, using his original technique on a clay slab he used for more than 40 years.
Mitch passed away in March 2018.
A portion of the sales from this show will be donated to the Mitch Lyons Kiln Fund at Wheaton Arts and Cultural Center in Millville, New Jersey.
His last show with us was in October 2017
Rhoda Kahler & Mitch Lyons
"Twogether"
Ceramics and Clay Monoprints
Full Circle

clay monoprint

19 x 26

$600.

framed

Asymmetry

clay monoprint

22 x 22

sold

Labyrinth

clay monoprint

11 x 16

sold

Sky/Land/Water

11" high

sold

13 x 16

$260.

unframed

No. 32

clay monoprint

9 x 17

$195.

unframed

No. 3

clay monoprint

10 x 14

sold

No. 16

clay monoprint

21 x 24

sold

No. 38

clay monoprint

13 x 16

$260.

unframed

Large Lidded Vessel with White Crackled Glaze

13" high

$300.

Stars and Moon

11" high

sold

Birds

clay monoprint

15 x 16

$475.

framed

Figures & Flutes

11" high

$225.

No. 30

clay monoprint

13 x 15

$245.

unframed

No. 42

clay monoprint

28 x 42

$1500.

unframed

No. 8

clay monoprint

12 x 16

sold

No. 19

clay monoprint

29 x 43

$1500.

unframed

No. 35

clay monoprint

9 x 18

sold

White Dots

7" high

sold

No. 17

clay monoprint

26 x 37

sold

Vase with White Top

9" high

$300.

Trees & Moon

11" high

$125.

No. 31

clay monoprint

12 x 12

$180.

unframed

Memory

clay monoprint

18 x 28

sold

Green Birds

11" high

sold

No. 43

clay monoprint

24 x 42

$1200.

unframed

Inside Center

clay monoprint

14 x 18

$1100.

framed

Running Figures

10" high

$200.

No. 5

clay monoprint

14 x 18

$315.

unframed

Musicians & Stars

8" high

sold

Lustre

clay monoprint

21 x 31

sold

No. 4

clay monoprint

16 x 18

$360.

unframed

Figure with Bird

12" high

$225.

No. 7

clay monoprint

11 x 11

sold

Music in the Rain

clay monoprint

11 x 14

sold

No. 39

clay monoprint

11 x 15

sold

No. 37

clay monoprint

12 x 16

$240.

unframed

Horse and Pond

11" high

$200.

No. 10

clay monoprint

11 x 16

$220.

unframed

No. 36

clay monoprint

11 x 12

$165.

unframed

No. 13

clay monoprint

11 x 15

sold

No. 33

clay monoprint

11 x 17

$235.

unframed

No. 14

clay monoprint

14 x 19

sold

Colorful Figures

8" high

$125.

No. 15

clay monoprint

20 x 24

$600.

unframed

No. 18

clay monoprint

30 x 32

$1200.

unframed

No. 26

clay monoprint

11 x 13

$180.

unframed

No. 27

clay monoprint

12 x 16

sold

No. 23

clay monoprint

7 x 14

sold

No. 29

clay monoprint

9 x 13

sold

No. 25

clay monoprint

9 x 14

sold

No. 24

clay monoprint

9 x 12

sold

No. 28

clay monoprint

11 x 16

$220.

unframed