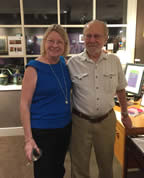 Mitch was the first artist to exhibit at the Gallery in January 1979.
He built vessels and pulled clay mono-prints, using his original technique on a clay slab he used for more than 40 years.
It is with deep sorrow that we share the passing of Mitch on March 5, 2018.
His last show with us was in October 2017
Rhoda Kahler & Mitch Lyons
"Twogether"
Ceramics and Clay Monoprints
October 6 - 28, 2017

InFuIn celebrat
Full Circle
A Celebration of The Station Gallery's 40th Anniversary
and the Art of Mitch Lyons
June 7 - 29, 2019
Opening Reception
Friday, June 7
5 - 8 PM
A portion of all sales will be donated to the Mitch Lyons Kiln Fund
at Wheaton Arts and Cultural Center in Millville, New Jersey
Dreamer

clay monoprint 18 x 27 sold

Message

clay monoprint

11 x 19

sold

Vase with White Top

9" high

$300.

Large Lidded Vessel with White Crackled Glaze

13" high

$300.

Protect the Arts II

clay monoprint

11 x 14

sold

Abstract Brown Lidded Vessel

10" high

sold

Inside Center

clay monoprint

14 x 18

$1100.

framed

Untitled

clay monoprint

28 x 42

$1500.

unframed

Untitled

clay monoprint

24 x 42

$1200.

unframed

Red Dawn

clay monoprint

11 x 13

sold

Cityscape Vase

10" high

$250.

To the Beat Bottle

12" high

sold

Mosaic Vase

9" high

$125.

Family of Three Sculpture

7" high

sold

Figure and Dog Vessel

9" high

sold

Musician & Birds Vessel

ceramic

9" high

sold